Mr Superfire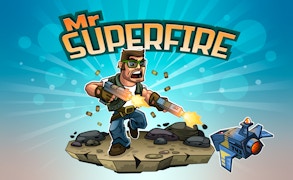 Mr Superfire
Description
In Mr Superfire, you're handed an arsenal of powerful weapons and thrown into intense battles. Your mission? Eliminate overwhelming waves of enemies. Every victory takes you one step closer to becoming a true master and saving the world. With each game, your skills sharpen, making you a formidable opponent. This is not a game for the faint-hearted; it demands courage, determination and strategy.
How to play
The controls in Mr Superfire are simple but mastering them is key. Use your mouse or touchpad to aim your gun and click or tap to shoot. The game progresses with escalating difficulty, so consistently improving your battle tactics and combat skills is crucial. Stay alert, make every bullet count and remember - the world's fate is in your hands.
Tips and Tricks
In Mr Superfire, consistency is key. Repeatedly playing will hone your shooting abilities for better accuracy and speed. Remember to keep moving; standing still makes you an easy target. Try varied attack strategies until you find what works best for you, then refine it to perfection.
Features
Intense shooting gameplay that demands skill and strategy.
A variety of powerful guns at your disposal.
Progressive difficulty that sharpens your skills with each game.
Majestic graphics that make the gaming experience vivid and real.
A quest to save the world, making every fight meaningful.
What are the best online games?