Mousy Look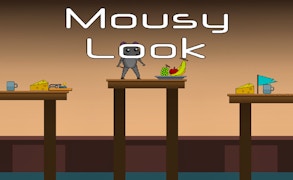 Mousy Look
Description
In Mousy Look, you'll find yourself in the tiny shoes of a brave cheese-loving mouse. This 2D platformer is set across 8 increasingly challenging levels, where your goal is to gather as many delicious cheese pieces as you can. However, this isn't just a simple cheese hunt. Along the way, you'll have to navigate and avoid perilous mouse traps and sharp spikes to reach the coveted blue flag at each level's end.
How to play
To control your mouse in Mousy Look, use either the WASD keys or arrow keys for direction. To overcome higher obstacles or platforms, utilize the double jump by pressing "W" or "Up" arrow twice in quick succession. Your mission is to gather cheese and reach the blue flag without falling foul of the dangerous traps that litter your path.
Tips and Tricks
In Mousy Look, timing is everything. Be patient and study each obstacle's pattern before making your move. Use double jump wisely; it could be the difference between successfully navigating a trap or falling victim to it. Lastly, make sure not to miss any cheese piece – they can provide an extra boost!
Features
Eight thrilling levels packed with challenges and enjoyment.
Fun 2D platform game mechanics featuring double jump ability.
A captivating gathering adventure requiring both skill and strategy.
Engaging graphics that perfectly set up an adventurous ambiance.
Challenging gameplay with increasing difficulty as you progress through levels.
What are the best online games?