Motorbikes Spot the Differences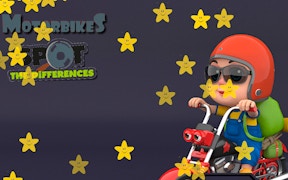 Motorbikes Spot the Differences
Dive into an exhilarating world of motorcycle games that challenge your observation skills and push your cognitive abilities with Motorbikes Spot the Differences. This brain-tingling game is winning over the hearts of all puzzle enthusiasts, especially those who appreciate the blend of mechanical beauty with the thrill of a good old spot-the-difference puzzle.
Motobikes Spot the Differences is not just a regular puzzle game, it is a unique experience specifically designed to stimulate young minds. It steps out of the boundaries of conventional Games for Kids, as it speaks to their mechanical curiosity and simultaneously enhances their observation skills and focus. Imagine having to find five subtle differences in two almost identical illustrations within a set time limit; the excitement is simply incomparable!
This game redefines memory games by adding an adrenaline rush that engages kids in an utterly immersive gameplay. With each level more challenging than the last, kids get to train their brains while having loads of fun. The best part? It's suitable for all ages, making it a great option for some quality family bonding time.
The game is simple yet fascinating, perfectly intertwining elements from both brain games and motorcycle-themed puzzles. Prepare yourself to be captivated as you sharpen your observation skills trying to find those elusive differences on each level.
In conclusion, with its visually pleasing graphics, easy controls, and brain-teasing challenges,
Motorbikes Spot the Differences
is arguably one of the best motorcycle-themed memory games available today for kids and adults alike. Whether you're into motorcycles or just love a good mind-bending puzzle game, this one deserves a spot on your play list!
What are the best online games?