Moto Maniac 3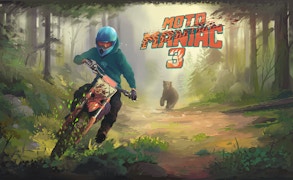 Moto Maniac 3
Description
In Moto Maniac 3, you are thrown into an exciting dirt biking competition deep within a lively forest. You'll be faced with obstacles, both natural and manmade, requiring skillful navigation. The essence of the game is not only to conquer these obstructions swiftly, but also escape the tenacious pursuit of a wild bear riled by the rumbling sounds of your bike.
How to play
To navigate through this rugged terrain, players need to balance well and regulate the speed decisively. The game requires using the arrow keys - up key for acceleration, down key for deceleration, and left/right keys for lean backward/forward respectively. Be mindful - the bear is always on your heels!
Tips and Tricks
To achieve high scores, finish levels as quickly as possible. Mastering your bike's balance can greatly enhance speed; use lean forward/backward wisely to maintain steadiness. Also, always be mindful of the chasing bear - don't let it catch up!
Features
The game offers:
Challenging physics-based gameplay that tests your biking skills.
Vivid graphics and immersive forest-based scenarios.
A thrilling chase element featuring a persistent bear.
A variety of unique obstacles to overcome in each level.
What are the best online games?