Mora Rush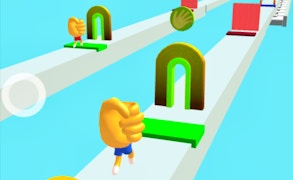 Mora Rush
Welcome aboard on an adrenaline-fueled adventure, highly popular amongst the genre of Hyper Casual Games - Mora Rush. This top-notch arcade sensation is more than a mere running game; it's an engaging exercise for the brain, a delightful treat amongst Brain Games, and a fun-filled journey of strategic victories.
Do you remember the good old rock-paper-scissors game from your childhood? Mora Rush relives that experience with a thrilling twist. The game dares to challenge your predictive abilities, providing you with cues to modify your fingers until you claim victory! This fusion of traditional play and modern mechanics is truly one-of-a-kind in the world of Running Games.
The sophisticated simplicity and high replayability factor of Mora Rush are what make it an absolute standout. It's all about pace, anticipation, and quick decision-making. As you pilot through its stimulating environments, the game presents you with hurdles that demand immediate decisions - decisions that could mean triumph or downfall. It's this unpredictability that hooks gamers worldwide.
But it's not all just run-and-guess. The visual allure of Mora Rush captivates the senses. Its smooth graphics, coupled with immersive sound design, create an arcade experience like no other. The easy-to-use controls ensure seamless navigation, while the exciting power-ups along the way add to its dynamic gameplay.
In conclusion, Mora Rush serves as an electrifying addition to the lineup of Hyper Casual Games. Its innovative blend of strategy and speed sets it apart from conventional Brain Games, giving gaming enthusiasts worldwide an experience to remember. So put on your running shoes because Mora Rush is ready for you!
What are the best online games?