Monster Trucks Hidden Wheels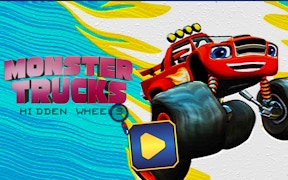 Monster Trucks Hidden Wheels
Prepare to shift gears and rev up your mental engines with the thrilling Monster Trucks Hidden Wheels, a standout in the realm of kids' puzzle, truck games, and car games. Known for its balance of fun-filled excitement and brain-boosting challenges, this game is sure to captivate both the young and the young at heart.
From the moment you click 'start', Monster Trucks Hidden Wheels catapults you into an engaging world filled with intrigue and dynamic visuals. This free online game marries the fast-paced energy of car games with the thought-provoking nature of hidden object games. The task is simple yet compelling: discover all 5 hidden wheels concealed within meticulously crafted images—each one brimming with vibrant colors and teeming with intricate details.
The gameplay mechanics are straightforward, making it accessible to an extensive range of players. With a total of five exciting levels, players manipulate their mouse to scan images and uncover hidden car wheels—a captivating combination of truck games, puzzle, and brain games. The experience grows progressively more challenging as you advance through each level, providing just enough challenge to keep players engaged without causing frustration.
This game is not just about entertainment—it's also an excellent tool for developing mental sharpness and improving attention to detail. This makes Games for Kids like Monster Trucks Hidden Wheels not only a captivating diversion but also a potent educational tool that can stimulate cognitive development in younger gamers.
In summary, Monster Trucks Hidden Wheels invites you into a riveting quest for hidden treasures nestled in captivating visuals. With its seamless blend of eye-catching graphics, intuitive gameplay, and just-right level of challenge, it sets a high bar in the realm of online car games and puzzle-based truck games specially designed for kids.
What are the best online games?