Monster Truck Stunts Sky Driving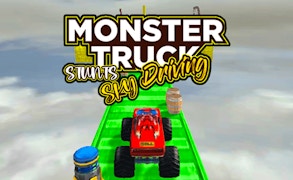 Monster Truck Stunts Sky Driving
Are you a speed addict with a penchant for jaw-dropping stunts and gravity-defying heights? Then buckle up, gearheads, as we dive right into a review of one of the most thrilling car games on the market - "Monster Truck Stunts Sky Driving". Touted in the gaming community as a genre-defying blend of truck games and sky-high offroad games, this adrenaline-fueled virtual experience is sure to push your driving skills to the limit and leave you begging for more.
The game puts you behind the wheel of not one but three monstrous trucks, each designed to mimic the raw power and rugged aesthetics we associate with these mechanical beasts. The level design dabbles in surrealism, suspending floating platforms high in the sky, while daring players to defy gravity and conventional driving norms with every maneuver.
Driving games have evolved over time, focusing not just on speed but also on delivering unique gameplay experiences. This is where "Monster Truck Stunts Sky Driving" truly excels. The magic lies within its creative leve-l design and physics-driven stunt mechanics that bring next-level excitement. Whether it's executing perfect flips mid-air or landing gigantic leaps off ramps, each stunt will challenge your notions of what's possible.
The game isn't just about performing crazy stunts though. It's an exercise in precision and timing. Each level challenges you in a new way, making it one of those racing games that requires quick thinking and even quicker reflexes.
In conclusion, "Monster Truck Stunts Sky Driving" brings together all the elements that make racing and car games so much fun- high-speed action, daring stunts, versatile trucks, challenging levels- all set against a backdrop of dramatic skies. If you're looking for an exhilarating game that combines aspects from various driving genres into one impressive package then look no further than this high-flying spectacle.
What are the best online games?