Monster Truck Soccer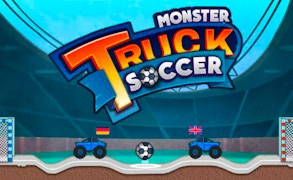 Monster Truck Soccer
Prepare to rev your engines and burn some serious rubber in the exhilarating fusion of sport and vehicular mayhem that is Monster Truck Soccer. A game where the worlds of soccer games, car games, and truck games collide in a spectacle of high-octane excitement.
At its core, Monster Truck Soccer is a soccer game like no other. The premise is simple but diabolically addictive- drive a colossal monster truck outfitted with a blazing turbocharger across a rugged pitch, outmaneuver your opponent, and try to thump the giant football into the goal. The catch? Your opposition is doing the exact same thing. It's like combining FIFA with Monster Jam, resulting in an unhinged carnival of vehicular carnage and exhilarating soccer gameplay.
The game's mechanics are fluid and intuitive, operating on wacky physics that heighten the comedy and unpredictability of each match. Nudging your opponent or scoring an audacious aerial goal through some manic turbo-charged jump will leave you laughing maniacally at the sheer absurdity.
But don't let the comical facade fool you, there's plenty of depth here. The truck customization feature offers scope for strategic gameplay. You can fine-tune your monstrous machine for speed or power, offering different playstyles that keep matches fresh. And let's not forget about those fancy hats! These wearable trophies are a testament to your monster truck soccer prowess.
In conclusion, this game is more than just another entrant in the world of car games or truck games; it's an insane mash-up that delivers hours of fun. With its blend of high-speed soccer action and over-the-top physics-based chaos, Monster Truck Soccer isn't just a game - it's an experience!
What are the best online games?