Monster Truck Repairing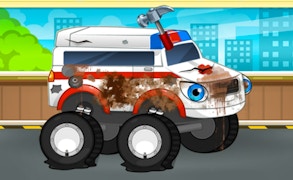 Monster Truck Repairing
Unleash the magical world of auto mechanics with Monster Truck Repairing, a perfect blend of joy and education that's sure to engage both boys and girls. Dipped in the fun-filled universe of Games for Kids, this game helps children explore their fascination with vehicles beyond just racing. It innovatively marries the thrill of Truck Games and Car Games with a sprinkle of learning.
Dive into a world where kids can pretend to be mechanics, fixing their monster trucks with their tiny hands. The charm transpires when they morph into imaginative drivers controlling the monstrous machines on their screens. Whether it's a high-speed sports car or a small dainty vehicle, every child gets to choose their favorite ride.
The game's beauty lies in its educational aspect. While they engage in their much-loved truck and car activities, they absorb basic knowledge on vehicle operations and repairs - making this one of the most enlightening Games for Girls as well as boys. It's an atypical approach to education where practical knowledge is imparted through interactive gameplay.
In terms of graphics and gameplay, Monster Truck Repairing stands out from the crowd with its vibrant colors, appealing sound effects, and smooth controls. Your little ones won't just play this game; they will live it!
In conclusion, Monster Truck Repairing isn't just a game; it's an experience that enhances your child's understanding while satisfying their curiosity about cars. And who knows? Your kiddo might grow up to become the next big name in automotive engineering!
What are the best online games?