Monster Truck Impossible Track : Monster Truck Stunts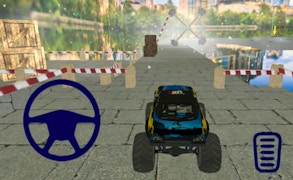 Monster Truck Impossible Track : Monster Truck Stunts
Brace yourselves, speed enthusiasts! Rev your engines and embark on a sensational journey of thrilling vehicular acrobatics in Monster Truck Impossible Track: Monster Truck Stunts. This adrenaline-pumping game is more than just a regular entrant in the realm of racing games. It's an extraordinary blend of car games, truck games, driving games, and a standout among offroad games, designed to push your driving skills to the limit and beyond.
If you've ever dreamt about becoming an ultimate crazy truck driver, maneuvering your vehicle through impossible tracks that reach for the skies, your dream is now within grasp. This is not merely another truck stunt simulator. On the contrary, it's a captivating experience that introduces you to the life of a monster truck simulator driver!
In this game, gravity is your biggest nemesis as towering heights loom ahead on precarious tracks suspended mid-air. Each level unfolds a new challenge, demanding adept handling of your heavy vehicle while performing daring stunts along the way. The perilous offroad terrains are meticulously crafted to test the nerve of even the most stalwart gamers.
The beauty of Monster Truck Impossible Track: Monster Truck Stunts, however, lies in its depth that goes beyond being just one of many typical car games or generic truck games. It insists on strategic thinking as much as sheer driving prowess.
In conclusion, if you are in pursuit of an extreme driving adventure that combines elements from various genres like car games, truck games and offroad games into one exhilarating package, then Monster Truck Impossible Track: Monster Truck Stunts is definitely worth revving up for.
What are the best online games?