Monster Truck Dirt Rally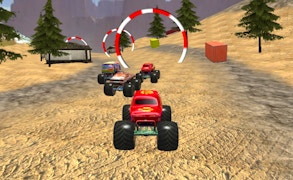 Monster Truck Dirt Rally
If you are passionate about car games, trucks games, and offbeat driving games, then make way for an indulgence crafted just for you - the Monster Truck Dirt Rally. This game is not merely another entrant in the wide realm of Offroad games, but a thrilling experience that keeps your adrenaline pumping throughout.
Drawing inspiration from famed gaming classics like MonsterJam and Colin Mcrae Rally, Monster Truck Dirt Rally ups the ante with its extremity and excitement. From uphill tracks to daunting dirt deserts, this racing game pushes the limit of every gamer's skill and determination.
The game excels in its life-like 3D tracks, which offer gamers a realistic offroad experience replete with monstrous effects. You are at the wheel of a 4x4 truck powerhouse, tasked with conquering challenging terrains across hills and deserts. The sheer thrill of taming the beastly 4x4 trucks is unrivaled as you navigate through roller-coaster terrains testing your mettle.
What sets Monster Truck Dirt Rally apart from many other similar car games is its exceptional quality of extreme real monster truck rally racing. The exhilarating truck driving simulator aspect ensures you feel every bump and turn along those rugged race tracks.
In conclusion, if you're seeking an electrifying fusion of exhilarating speed, imposing trucks, and death-defying offroad tracks - Monster Truck Dirt Rally waits to embrace you with open arms. Your virtual driving skills will be put to their ultimate test as you take on some of the most treacherous tracks ever witnessed in a video game.
Saddle up gamers! For it's time to dive into the world of true off-road racing spectacle.
What are the best online games?