Monster Truck 3D Winter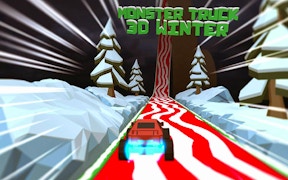 Monster Truck 3D Winter
Rev up your engines and prepare for some high-octane action in Monster Truck 3D Winter, the latest addition to the realm of thrilling car games and truck games. With the mercury dipping down, take your gaming experience to a frigid new level in this adrenaline-pumping racing game.
Packed with electrifying gameplay, Monster Truck 3D Winter challenges you to test and sharpen your driving skills against an icy backdrop. The game's unique ghost mode, a trendsetter among driving games, offers you an unprecedented chance to track your past progress and speed - it's like racing against your own shadow. This subtle yet effective concept gives you a thrilling experience in 2 player games, making every playthrough fresh and emotionally charged.
But it's not just about racing alone; Monster Truck 3D Winter also sets the stage for unforgettable drifting sessions. Tear through frost-laden tracks leaving frosty trails behind as you master the art of drifting. These drifting games provide a satisfying balance between controlled precision and wild spectacle, making each drift a frame-worthy sight.
The game truly shines when you take on its sensational 2 player (split-screen) mode. Challenge not only the blistering cold but also your friends in nerve-racking races and drift-off sessions. The thrill of racing neck-and-neck with your buddy while snow crunches beneath your monster truck's roaring engine is something that only true fans of 2 player games can appreciate.
In conclusion, Monster Truck 3D Winter is not just another title in the vast ocean of car games or truck games; it's a perfect blend of heart-pounding races, skill-testing drifting, and nail-biting 2 player action that warrants several hours of chilly fun. So buckle up gamers, because this winter, it's all about mastering the drift on icy terrains and conquering monstrous challenges!
What are the best online games?