Monster Round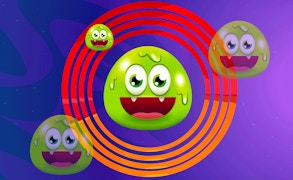 Monster Round
Description
Welcome to Monster Round, the ultimate reflex arcade game where quick thinking and faster actions are your only way to survive. In this game, you will encounter various monsters and your mission is to outlive them. The game offers fast-paced gameplay that gets tougher as you progress, keeping you on your toes at every step.
How to Play
The controls in Monster Round are quite simple, needing only your mouse or touchpad to navigate. Drag your character around the screen and avoid contact with any monsters that appear. The speed and number of monsters will progressively increase, making the game increasingly challenging. Remember, your survival depends on your dexterity and quick-thinking skills.
Tips and Tricks
Your reflexes will be key in Monster Round. Stay relaxed but alert - don't let the increasing intensity intimidate you. It's important to anticipate the monster's movements, so stay vigilant. Also, don't linger in one area for too long as it will make evasion more difficult.
Features
The game features:
Different types of monsters to keep gameplay interesting.
A hyper-casual style that's easy for new players to pick up.
Progressive difficulty that challenges even experienced gamers.
Simple controls that require just a mouse or touchpad.
An online platform catering for instant play without downloads.
What are the best online games?
Tags