Monster Puzzles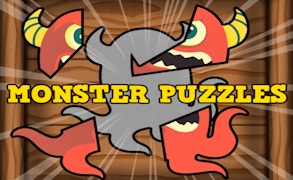 Monster Puzzles
Description
Experience a whole new level of fun with Monster Puzzles, a game filled with colorful and intricate puzzles. Set a spooky but delightful Halloween theme, it offers different eerie images like pumpkins, skeletons, spiders, and more. Your task is to meticulously assemble these jigsaw puzzles making sure each piece fits perfectly into place. Discover the joy of playing while challenging your brain to solve these not-so-scary puzzles.
How to play
The gameplay is simple - select an image from the available options and start solving the jigsaw puzzle. You have to click and drag the pieces to their correct position in the image. As you progress, the items become more complex, putting your puzzle-solving skills to test. With every completed puzzle, you'll feel a sense of accomplishment plus loads of fun!
Tips and Tricks
Start solving the puzzle by focusing on the corners and edges. They are easier to locate and can provide a useful frame for the rest of the puzzle. Also, look for pieces with distinctive patterns or colors as they can stand out among others. Remember - patience is key in this game!
Features
Suitable for all ages - kids and adults alike.
Vivid graphics with captivating Halloween-themed images.
User-friendly interface – easy click-and-drag motion.
A variety of intriguing jigsaw puzzles to test your problem-solving skills.
What are the best online games?
Tags