Monocycle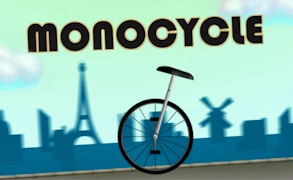 Monocycle
Calling all adrenaline junkies – introducing Monocycle, the next big thing in the world of dirt bike games and motorcycle games. Say goodbye to boring old flat terrains and hello to the risky vertical drops of this mountain bike downhill racing challenge.
Daredevils, grab your helmets - Monocycle is not for the faint-hearted. The track is steep, challenging even the most seasoned players. Navigate through treacherous obstacles and dangerous holes that will keep you on the edge of your seat. This game takes skill games to a whole new level.
The thrill of racing down uncharted mountains at breakneck speed, the satisfaction of overcoming difficult terrains - Monocycle offers an unmatched gaming experience that will leave you coming back for more. It masterfully combines elements from other popular dirt bike games, with its exciting downhill track bringing a fresh twist to conventional motorcycle games.
Your goal? Finish each of the 20 exhilarating levels as fast as possible. The quicker you complete a level, the more stars you gain. With every star being a testament to your aptitude and skill, this feature transforms Monocycle from a mere game into a contest of grits and prowess.
In conclusion, if heart-stopping action and challenging game-play is what you crave, then look no further than Monocycle. With its thrilling tracks and perilous pitfalls, it takes skill games to new heights (quite literally). Whether you're an amateur biker or an experienced racer, Monocycle guarantees an adrenaline-pumping experience that will have you hooked from the moment you start pedaling downhill.
What are the best online games?