Mommy Shopping Xmas Gifts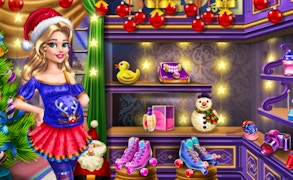 Mommy Shopping Xmas Gifts
Welcome to the enchanting virtual world of Mommy Shopping Xmas Gifts, a game that flawlessly blends the fun of money games, the festivity of Christmas games, and the addictive engagement of clicker and tap games into an extraordinary gaming experience.
This game, primarily designed for girls, is a delight to play. It artfully combines the thrill of tapping for money with the joyous spirit of sharing that radiates at Christmastime. As you assist mommy in earning as much currency as she can to buy presents for her friends, you'll be caught up in a whirlwind of holiday cheer and strategic planning. And oh! The joy when you uncover highly desirable gifts at the shop and share them with the guests to spread happiness.
Mommy Shopping Xmas Gifts harnesses that wonderfully warm Christmas atmosphere to create an engaging user experience. The fundamental concept of this game is simple enough for young gamers but sufficiently captivating for older players too. It beautifully captures the essence of Christmas shopping and sharing, making it one of the best Christmas games available.
The captivating and easy-to-navigate interface is another standout feature. The interactive gameplay mechanics revolving around clicking or tapping make it an ideal game for girls who crave instant gratification from their digital endeavors.
Ultimately, Mommy Shopping Xmas Gifts is a gem when it comes to kids' money games. This festive clicker game embodies not only the fun and excitement that children desire from video games but also subtly instills in them values like hard work, smart spending, and sharing — all wrapped up in a charmingly interactive package.
If your kids are searching for new games this holiday season, this clicker money game could just be their perfect present! So why wait? Join mommy on her Christmas shopping spree now!
What are the best online games?