MMMR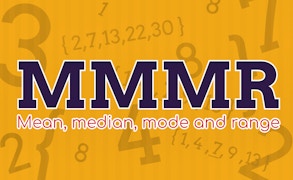 MMMR
Description
Experience the thrill of mathematics with the game MMMR. This engaging educational game uses fun components, making the process of learning feel like play. You're taken through different stages where you would find the mean, median, mode, and range for different sets. Each progressive stage increases in complexity, helping you get better which each step.
How to Play
The game is navigated using a simple point-and-click interface. Each task presents a set of numbers, and your task is to calculate the mean, median, mode or range. As you calculate correctly, you progress through the game. The difficulty level increases as you advance through levels, offering a more challenging experience.
Tips and Tricks
Make use of pencil and paper to ease calculations if needed. Take your time and don't rush as speed is not evaluated in this game. Focus on being precise because wrong answers will take you back a step.
Features
Educational: Aids mathematical understanding in a fun way.
Simplicity: Easy-to-use interface suitable for all ages.
Progressive Difficulty: Levels become more complex as you advance.
Feedback: Immediate feedback on mistakes to aid learning.
What are the best online games?