Mini Pool for Kids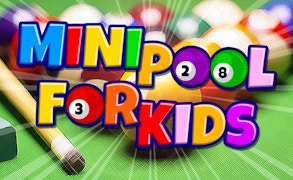 Mini Pool for Kids
Description
Get your cue sticks ready for Mini Pool for Kids, a simplified and engaging version of traditional pool billiard. This game, designed specifically for young enthusiasts, offers a stress-free environment where the main objective is to sink all the balls into the pockets. With its realistic physics, immersive graphics, and captivating sounds, Mini Pool for Kids guarantees an addictive gaming experience!
How to Play
To play Mini Pool for Kids, use the intuitive touch controls to aim and hit the balls. The strength and direction of your shot are determined by your swipe on the screen. To progress in the game, you need to sink all balls into the pockets. The game presents endless gameplay, so you can keep improving.
Tips and Tricks
To achieve higher scores in Mini Pool for Kids, pay attention to your aim before shooting. Mastering angle adjustments is crucial in this game. For a more controlled shot, try a softer swipe – remember that power isn't everything in billiards!
Features
Simplified version of pool billiard perfect for kids.
Realistic pool ball physics, making gameplay more engaging.
Fantastic graphics and sounds, enhancing enjoyment.
Five different billiards tables, providing variation in gameplay.
Infinite gameplay, offering endless fun.
What are the best online games?
Tags