Mini Ear Doctor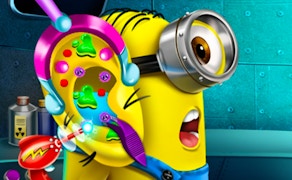 Mini Ear Doctor
Parents and kids, it's time to put on your virtual scrubs and whiten up your smiles as we take a look at the newest sensation in the realm of Games for Kids and Games for Girls. Allow me to introduce you to the delightful, educational world of Mini Ear Doctor.
In this impeccably designed game, children get a glimpse into the life of a healthcare professional, learning while having fun treating our adorable patient 'Mini'. The game presents an ingenious way to learn about ear health, replicating scenarios that simulate common ear problems including infections. Known for its real-life representation, Mini Ear Doctor is perfect for those young budding physicians or anyone who strives for a hands-on learning experience.
Dive deep into the ear canal with precision tools like syringes and lasers at your disposal. The game emulates a realistic medical facility where kids get to perform virtual operations. These operation games are designed not only for entertainment but also provide an educational aspect that would be hard to find elsewhere.
A fan favorite feature is the inspection scope enabling you to see bacteria; making it extra real and fascinating. Believe me when I say that this game is far from being boringly educational – it is enchanting, engaging and most importantly, extremely fun!
The interactive platform allows children to understand diagnosis and treatment protocols in a stress-free setting. Children will perform treatments ensuring Mini feels better soon. Now how rewarding does that sound?
Craftily threading education with entertainment in true 'edutainment' fashion, there's no questioning why Mini Ear Doctor has quickly risen as one of the top must-play Games for Kids. It excites curiosity while teaching valuable lessons about health care -an outstanding choice for all those tech-savvy parents out there!
Treating ear infections has never been this much fun! So why wait? Join us in making our cute 'Mini' feel better because every child deserves healthy ears.
What are the best online games?