Mini Bowling 3D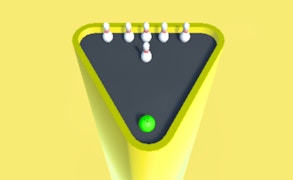 Mini Bowling 3D
Step into the vibrant and engaging world of Mini Bowling 3D, the latest entrant in the arena of entertaining bowling games. A hyper casual arcade game that invites gaming enthusiasts to experience an intoxicating fusion of strategy, precision, and pure fun. Its main allure lies in its simplicity; aim your target and strike to tumble all the pins – a game that's easy to learn but demands practice to master.
One of the most intriguing aspects of Mini Bowling 3D is its enticing balance between challenge and enjoyment. It's not just about knocking down pins; it's about understanding angles, predicting motions, and exploring the lustrous physics engine behind these compelling ball games. The joy of watching your precisely aimed ball swoop down on the perfectly aligned pins, is nothing short of exhilarating.
The 3D graphics are a feast for the eyes - realistic yet playful at the same time. The colors pop just enough to hold your interest without becoming overwhelming or garish. The controls are intuitive and smooth—every swipe feels natural, inviting you into this miniaturized world where every strike earns a cheer.
In conclusion, Mini Bowling 3D is more than just another entry in the world of bowling games; it stands as a testament to how engaging and immersive casual gaming can be. This game has succeeded in taking a familiar sport and turning it into an addictive digital pastime for all age brackets. Whether you're a seasoned bowler missing your alley sessions or someone looking for an entertaining game to pass time, Mini Bowling 3D offers an exciting experience that guarantees fun with every strike!
What are the best online games?
TAGS