Mini Billiard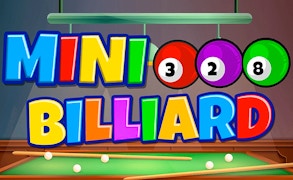 Mini Billiard
Description
Welcome to Mini Billiard, a delightful and simplified rendition of classic billiards. This game trades in strict rules for an easy, stress-free experience that's perfect for kids and teens. The objective is simply to pocket all the billiard balls in the shortest time with few mistakes, enjoying a colorful and entertaining pastime.
How to Play
The game controls in Mini Billiard are simple and intuitive. Your primary tool is the cue stick, used to strike the balls into pockets. The game progresses as you clear all balls from the table, done by aiming accurately and applying the right amount of force. Remember, less mistakes made, quicker is the clearance.
Tips and Tricks
In Mini Billiard, it's always good to plan your next move before hitting a ball. Try to look ahead and position your cue ball for your next shot. Speed is important but accuracy will help you avoid crucial mistakes that can cost you time.
Features
Simplified version of classic billiards ideal for young players.
Colorful graphics and user-friendly interface.
Easy rules; aim is just to pocket all balls quickly with few errors.
Suitable for developing strategic thinking and hand-eye coordination.
What are the best online games?
Tags