Minecraft Survival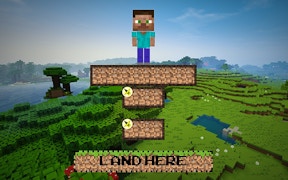 Minecraft Survival
Welcome to the vast, pixelated world of Minecraft Survival, one of the most ingenious brain games that ingeniously combines elements from block games and Minecraft games, delivering a mind-boggling experience set within a world of meticulously detailed pixel games.
In the heart of this game lies our protagonist, Steve. The player's task? To keep Steve safe by strategically removing blocks, ensuring he lands safely on the requisite platform. It's a mechanic that will test your strategy implementation skills to the limit, pushing your brain to unravel solutions for increasingly complex puzzles.
The game's graphics embrace the voxel-styled visuals, hallmark to Minecraft Games. The pixel-perfect landscapes offer not just an endearing retro charm but also an engaging interactive environment. Moreover, while indulging in these captivating pixel games, you're constantly pulled into puzzles that have you on edge with their ever-increasing complexity.
Minecraft Survival is more than just another addition to the plethora of block games. It elevates itself with intricate puzzle designs that will remind you how grossly underrated and brain-teasing these block-based challenges can be. Each level brings a fresh perspective and new challenges in terms of block arrangement and optimizing block removal timings.
A standout feature of this game is its ability to transform complexity into fun. The fun-fueled ambience subtly masks the game's core demand for strategic thinking and fast reflexes - making you forget you're playing one of the most challenging brain games.
If you enjoy pixel games with an extra layer of challenge or if you're a fan of block games looking for something new in Minecraft Games or simply love engaging brain games – Minecraft Survival should definitely be your next stop.
What are the best online games?