Minecraft Skibidi Hidden Toilet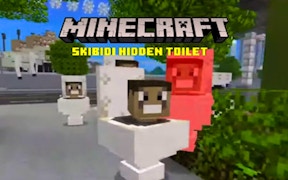 Minecraft Skibidi Hidden Toilet
Description
Minecraft Skibidi Hidden Toilet presents an electrifying hidden object puzzle set within the Minecraft universe. Dive into 10 meticulously crafted levels, each harboring 10 concealed toilets. With a ticking clock, locate these hidden objects swiftly or risk running out of time. However, be cautious; incorrect clicks will further deplete your time. Embark on this brain-boosting challenge and have a blast!
How to play
Progress through the game by identifying all the obscured toilets in each level within the allotted time. Use your mouse to click on the located objects, and remember that wrong clicks would cost you precious seconds. Each level becomes increasingly complex, requiring keen observation and swift action for progression.
Tips and Tricks
Avoid hasty clicking. Instead, thoroughly scan the image for possible hidden toilets to avoid time penalties associated with incorrect clicks. Always be aware of the ticking timer and balance your pace accordingly. The key to succeeding in this game is a blend of speed and accuracy.
Features
Engaging Gameplay: A delightful mix of Minecraft aesthetics and hidden object puzzles.
Fascinating Levels: 10 distinct levels each presenting unique challenges.
Race against Time: Adds an extra layer of thrill with the ticking clock.
Meticulous Design: Well-detailed images that reward sharp observation skills.
What are the best online games?