Milk For Cat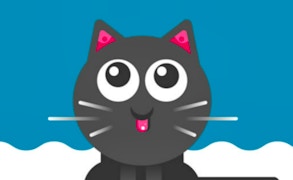 Milk For Cat
Brush off your feline instincts and get ready to dive into the playful world of Milk For Cat, one of the newest animal games that is taking the kids, puzzle genre by storm. This game is a beguiling blend of captivating cat games in a simple yet enchanting set-up that involves feeding delightful cats with bags of milk hanging on ropes.
Milk For Cat shines in its simplicity and its endearing aim. The task? You are entrusted with the sweet duty of caring for various adorable cats, ensuring each one gets their share of tasty, nutritious milk. The milk bags hang tantalizingly above each cat; every bag swings like a pendulum, and it's your job to cut the rope at the right moment, causing a delicious downpour for the eagerly waiting feline!
Now, this might seem easy, but this is where the puzzle aspect comes into play. Timing is everything in this fun game. Guessing when to cut the rope requires skill and preciseness - any misstep could lead to an empty cat and a loss of points.
But fear not! For every satiated cat rewards you with points. Happy cat equals happy gamer! And let's face it; who wouldn't want to be rewarded for making these cute furballs happy?
Incorporating elements from popular kids' games and fun games alike, Milk For Cat is a delightful journey that engages young minds while fostering problem-solving abilities. It's doused in vibrant colors that only add to its charm, reinforcing why it deserves its spot amongst top-rated Games for Kids.
In summary, Milk For Cat navigates you through an array of adventurous puzzles that test your wit while providing endless entertainment. It has brilliantly combined elements from various animal games and cat games to deliver an unforgettable gaming experience. So get ready - it's time to swing some milk bags!
What are the best online games?