Mien Bugr Skate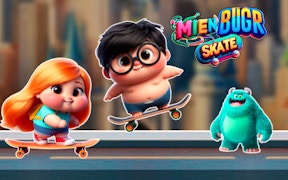 Mien Bugr Skate
Introducing Mien Bugr Skate, the newest addition to the realm of kids skateboard games. This game provides an adventurous journey where your mission is to unite two pals with their rogue pets before nightfall while using their skateboards to navigate around town.
The unique aspect of Mien Bugr Skate is its creative integration of both the skateboard games and monster games genres. Our cute friends are not only tasked with returning home, but they have to skillfully avoid the lurking monsters that could potentially turn them into dinner. Whether you're soaring over gaping potholes or ducking under low-hanging branches, you will be on the edge of your seat!
In this exciting game, you can also become a gold collector. Scattered throughout the game are treasures in the form of gold coins that players should strive to collect. The pursuit of these coins adds an extra layer of thrill and gives gamers a side mission while trying to evade monsters and locate pets.
You don't just play for fun in this game; it also tests your tactical skills through various badges you must acquire to activate a Black Hole. The Black Hole is a special feature that sucks in all nearby monsters – giving you temporary relief.
The functionality of Mien Bugr Skate is versatile since it's playable both on desktop and mobile devices. The controls are simple - press W or arrow up key to jump over obstacles or approach monsters!
If you are dedicated fan of two-player-games, then Mien Bugr Skate should grace your game's shelf without a miss! Join the thrilling adventure in this action-packed skateboard game with monster chases & reunite our adventurous buddies with their playful pets.
What are the best online games?