Mew Cat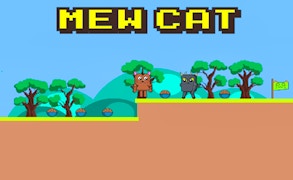 Mew Cat
Description
In Mew Cat, you dive into the adventurous world of a daring cat. This 2D platform-style game ensures you're engaged in helping your little feline friend reach their goal. Navigate through hazardous obstacles such as enemy cats, perilous spikes and deadly saws while collecting bowls of delicious cat food. The adventure increases in intensity as you proceed through the game's 8 challenging levels.
How to play
This game is controlled using either the "WASD" keys or the "Arrow" keys. To move your kitty across the diverse terrain, just press in the desired direction. Unleash the ability of a double jump by tapping either "W" or "Up arrow" twice quickly. In this fast-paced journey, don't forget to grab food bowls and make it to the green flag to progress to the next level.
Tips and Tricks
Mastering the double jump is key to your survival in Mew Cat. Utilize it not just for reaching higher platforms but also for evading threats from below. Time your movements carefully around moving saws and always be on guard against enemy cats.
Features
Cute and engaging 2D platformer gameplay
A variety of challenges including spikes, moving saws and enemy cats
8 progressively more difficult levels to beat
Intricate control scheme including unique double jump feature
Captivating theme centered around an adventurous cat's journey for food bowls
What are the best online games?