Mermaids Bffs Realife Sauna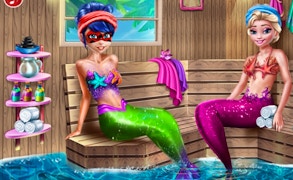 Mermaids Bffs Realife Sauna
Delve into the fantastical underwater world of Mermaids Bffs Realife Sauna, an engaging piece in the realm of games for girls. Its entrancing storyline merged with eye-catching visuals creates a delightful gaming experience that's hard to resist. With this game, the magic of mermaids and dress up games unite in a perfect ensemble, bringing forth a captivating adventure that your little one would love to embark upon.
What sets Mermaids Bffs Realife Sauna apart from other mermaid games is its beautiful blend of friendship, relaxation, and fashion. The story revolves around two lovely mermaid besties who opt for an enchanting sauna experience. As a player, it's truly delightful to help these pretty underwater princesses unwind and rejuvenate in their favorite leisure spot.
The game offers a plethora of interactive options for players to engage with. From selecting stunning stones for the fire to choosing essential oils for creating the perfect steam room ambiance - every decision matters here! This unique mix of creativity and decision-making sets this game apart from other run-of-the-mill dress up games.
But the fun doesn't end here! The real show-stopper is dressing up these chic sea sirens post their relaxing sauna session. A vast selection of trendy outfits and accessories are at your disposal – letting your fashion creativity loose has never been this amusing. Once you've bestowed them with your fashionable touch, watch them go out and bask in the sun looking more blissful than ever.
In conclusion, Mermaids Bffs Realife Sauna offers an engaging combination of immersive gameplay and fashion-forward elements making it a must-try in the category of games for girls. Whisking you away to a mystical aqua realm where fun meets fashion - this is one adventure you don't want to miss!
What are the best online games?