Merge Rainbows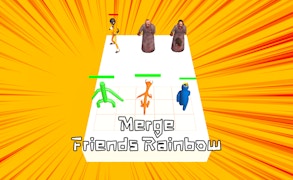 Merge Rainbows
Description
In Merge Rainbows, you command an army of vibrant, rainbow-themed monsters. This epic battle game tests your strategic abilities as you merge the same units to create more powerful creatures. With every challenge conquered, your army grows stronger, unlocking new monster types. Engage in thrilling battles for survival in this colorful world.
How to play
Control your vibrant troop with a simple touch of your finger. You can draw and grow monsters by merging them and evolving their form. For each successful merge, the creature increases in power. Prepare for brutal warfare and vanquish your enemies to emerge victorious.
Tips and Tricks
To succeed in Merge Rainbows, strategic thinking is crucial. Consider all possible merge combinations before making a move. Remember, each creature has unique strengths - maximize these to gain the upper hand in battle.
Features
Straightforward merging mechanism: Simply match the same units of monster to evolve them into a stronger form.
Vibrant visual design: The game's captivating art style adds extra fun to the gameplay.
Unlockable creatures: With every challenge cleared, unlock new and more powerful monsters for your army.
Engaging gameplay: The progressively challenging gameplay keeps players engaged and entertained from beginning to end.
What are the best online games?
Tags