Meowfia Evolution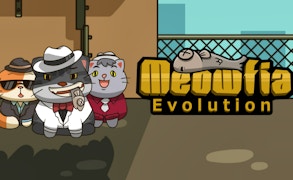 Meowfia Evolution
Step into a purr-fectly crafted blend of cat games and gangster games with the fantastically eccentric game, Meowfia Evolution. This ingenious puzzle of feline frenzy is not your usual arcade; it has the charm of a classic clicker game with a unique twist that not only cat enthusiasts but also arcade gaming aficionados will find irresistibly enjoyable.
The game begins by opening bags to rescue adorable kittens. You might think this is just one of the many typical tap games. But hold onto your tail! There's more to it than just that. As you accumulate your army of kittens, you can combine them to create evolved, even more powerful versions. A touch of strategic thought is required here making it one of the more intelligent idle games.
Your feline mafia, or better said "meowfia", generates cat coins through, believe it or not, cat poop! Feed your kittens fish and watch as they poop faster. Revolting? Maybe. Hilarious? Absolutely! The avenues for earning are endless in this remarkable game. Invest in upgrades like quicker fish deliveries and powerful magnets to optimize your earnings.
A word of caution: don't get too immersed and forget about the ultimate goal - unlocking the awe-inspiring Godpurrer. This cat is no ordinary kitty but the kingpin of this cat mafia realm. Conquering this colossal task is what separates an average gamer from a true gangster.
In summary, Meowfia Evolution provides an amusing blend between adorable cat games and exciting gangster games. Its addictive gameplay and whimsical narrative make it stand out amongst other available clicker games, tap games, and idle games. It's all about strategy, patience, and enjoying the cuteness overload that has turned this game into a cult favorite amongst gamers globally.
What are the best online games?