Memory CorVirus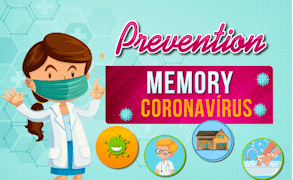 Memory CorVirus
Description
Memory CorVirus is an engaging and informative memory game that subtly educates about the importance of hygiene and virus prevention. In this fun, digital test of recall skills, players will need to pair matching cards which depict various hygienic practices and elements associated with health protection. Boost your memory whilst learning about key health aspects!
How to play
The game is simple and intuitive to play. Clicking on the face-down cards reveals images. The aim is to find the matching pairs. Players must remember where each image is, as they have a limited number of attempts to match all pairs. With each completed level, the difficulty increases, making it a progressively challenging memory workout.
Tips and Tricks
To excel in Memory CorVirus, focus on remembering the locations of just a few cards at a time instead trying to remember all at once. Another tactic can be familiarizing yourself with the layout before starting to flip the cards over. Stay calm, patience and concentration are your best allies in this game.
Features
An interactive way to learn about hygiene practices and health awareness.
A fun memory booster which increases in complexity with each level.
User-friendly interface that requires only a mouse click or touch screen tap.
An excellent pastime for both kids and adults that subtly educates on important topics.
Engaging graphics that make learning fun and attractive.
What are the best online games?
Tags