Mech Battle Simulator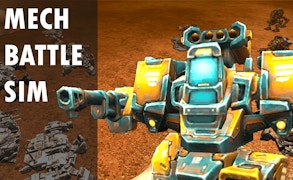 Mech Battle Simulator
Description
Welcome to the battlegrounds of the future in Mech Battle Simulator, an intense military simulator game. Set in the year 3070, this game allows you to command a mighty mech army in thrilling wars. The unforgettable experience includes realistic robot damages and colossal explosions that add to the stakes of war. Explore a beautifully designed 3D environment, where you can strategize and execute your assaults against enemy forces.
How to Play
In this game, you'll adopt the role of a commander. Your objective is to manoeuvre your mech units including tanks, spiders bots, and warrior robots in strategic battles against rival armies. Progress through diverse levels by defeating opponents and applying tactical maneuvers. Control navigation with arrow keys or WASD, and target and shoot with your mouse.
Tips and Tricks
To succeed, always keep an eye on your units' health bars during battles. Use cover effectively for defenses and wait for an opportune moment to strike back. Remember to use your different types of units strategically according to their strengths.
Features
Stunning Battlefield: Experience wars on visually impressive 3D maps.
Diverse Units: Command various types of mech army units including tanks, spiders bots, etc.
Realistic Damages: Watch out for spectacular damages and explosion effects.
Ambient Music: Bask in the intense music tracks by McGorilla42_Hidden-Tension.
What are the best online games?