MathPup Math Adventure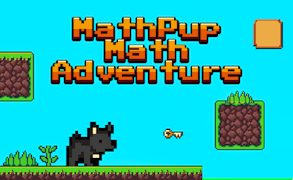 MathPup Math Adventure
Description
In MathPup Math Adventure, you'll help MathPup explore various levels filled with mathematical challenges. The game revolves around fetching numbers that must be ordered correctly to solve arithmetic problems. Each successful problem-solving venture unlocks keys that open the path towards the exit. Be careful, though! The clock is ticking, and running out of time could mean starting over unless you opt to extend your playtime.
How to Play
The game's controls are intuitively designed for smooth navigation. Simply guide MathPup towards the numbers and fetch them in the correct sequence to solve math problems and earn the exit key. Keep a keen eye on your remaining time. If it runs out, watch an ad for a chance to gain an extra 30 seconds of playtime!
Tips and Tricks
Accuracy is king! Fetching numbers in incorrect orders won't help you progress. So take a moment to analyze the problem before making your move. Also, keep track of time as it can run out quickly. It's always prudent to plan your route for efficiency and avoid losing valuable seconds.
Features
Puzzle-filled action-adventure gameplay: combines quick thinking with academic challenges.
Addictive time-based play: maintains tension and keeps players engaged.
Educational: serves math problems for mental exercise.
Suitable for all ages: an excellent tool for both kids learning math or adults looking to keep their skills sharp!
What are the best online games?