MathGrid Master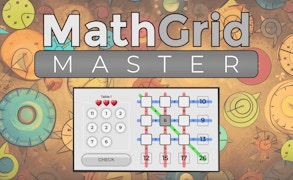 MathGrid Master
Description
Experience a brain workout like no other with MathGrid Master. This fascinating math game puts your numerical acuity and logic to the test. You'll be dealing with a 9x9 grid, filling in numbers and mathematical operations across horizontal, vertical, and diagonal lines. The goal? Arrange numbers judiciously to solve each calculation while keeping an eye on your three lives.
How to play
MathGrid Master is all about focus and precision. You drag the numbers to their correct positions on the grid. Each calculated solution should align with your pre-placed figures. But remember, you only have three lives. Once they're gone, it's game over! As you progress, you'll face more challenging levels enhancing your problem-solving prowess.
Tips and Tricks
In MathGrid Master, anticipation is key. Plan your moves ahead of time and ensure each number placement contributes to multiple equations. This approach allows you to optimize your strategy and keep those precious hearts safe from loss.
Features
An engaging 9x9 grid puzzle that stimulates logic and numerical skills.
A three-heart system to keep the challenge going with an element of suspense.
Diverse difficulty levels for escalating challenges that truly test calculus capabilities.
A user-friendly interface for easy drag-and-drop actions.
What are the best online games?
Tags