Math Trivia Live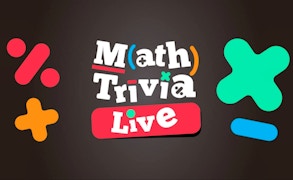 Math Trivia Live
There is a new titan on the multiplayer gaming block that goes by the title of Math Trivia Live. This game superbly melds the worlds of brain games, trivia games, and math games in a frenzied, competitive setting, guaranteed to keep you on your mental toes.
Straight out of the gate, Math Trivia Live asks "How fast can you calculate math in your head?" This isn't a tawdry number game gimmick; the rapidity with which you solve these problems could spell victory or defeat. Each match consists of 10 rounds of randomly generated questions, where speed and accuracy are paramount.
Situated in a vibrant trivia-themed environment, Math Trivia Live challenges your skills against players from around the world, making it an excellent addition to the category of family games. Each round is populated by savvy problem-solvers on smartphones, tablets or computers — no platform is left unchallenged.
Naturally, as this game is optimized for multiplayer action, practicing alone is never enough - but wait! Math Trivia Live has you covered with bot opponents for practice sessions. This feature sets it apart from other mere educational games; it's an instrument for honing and testing your mental agility.
To add a touch of personal flair amidst the number-crunching mayhem, Math Trivia Live provides avatar selection. It's more than just about having fun - it's about stamping your individuality! So if you're ready to dive into a world filled with numbers and quick thinking tactics, then Math Trivia Live is definitely worth checking out!
What are the best online games?