Math Quiz Game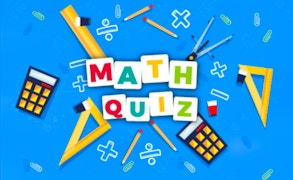 Math Quiz Game
An exciting fusion of education and entertainment, the Math Quiz Game, brings a refreshing take on the sheer possibilities of learning games and educational games. Clad in fun vibrant colors to captivate young minds, this masterpiece merges the best elements of trivia, puzzles, and numbers into an experience that transcends ordinary games for kids.
From the moment you dive into the gameplay, it's clear this is much more than just a math game. It's an intricate journey and a love letter to mental problem-solving that dares to challenge your intellect at every turn. It toggles brilliantly between easy-to-solve puzzles to more complex equations, all while keeping your mind stimulated with its slice of brain games.
The Math Quiz Game teases your rational mind with math problems cloaked under the guise of innocent-looking cartoons. It invites the player to delve into a brain-teasing world where numbers rule supreme. Each level ups the ante; each victory sweetened by conquering a challenging tangle of numerical questions.
A rallying cry for every kid who has ever struggled with math or has been bored by traditional learning methods, this game packs knowledge acquisition in an enjoyable package. While playing you will suddenly realize you are not only having fun but also learning - absorbing mathematical concepts unconsciously through 'edutainment'.
This isn't merely about comprehending numbers and their interwoven relationships but also nurturing thought patterns that enhance problem-solving abilities. Undoubtedly, Math Quiz Game is an engaging contribution towards making puzzle games, particularly number-based ones, more accessible and enjoyable for everyone. Play now! Embark on this brilliant journey of fun-filled learning!
With its clever mix of education and entertainment, Math Quiz Game is revolutionizing the sphere of educational gaming!
What are the best online games?