Match Pictures to Words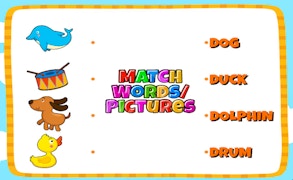 Match Pictures to Words
Description
In the captivating and enlightening game of Match Pictures to Words, your task is to link images with their corresponding words. It's not only a route to fun but also a creative pathway to enhance your vocabulary and cognition. The game offers two different modes, catering to different skill levels making it an ideal choice for both children and adults who love word games.
How to Play
Playing Match Pictures to Words is straightforward! You simply choose a picture and then drag-n-drop it onto the matching word. If you successfully match an image with its respective word, a 'well done' prompt will pop up, and in case of a mismatch, you will be alerted with an error message. Be mindful in 'Normal' mode as incorrect pairings can lead to a game over!
Tips and Tricks
To succeed in Match Pictures to Words, focus is key. Keep calm, take your time, especially in 'Normal' mode where lives are limited. Remember that learning is the goal here - so don't worry about making mistakes! Each miss is an opportunity to learn.
Features
Two distinctive gameplay modes - Easy and Normal.
User-friendly interface accessible for all ages.
A lively children's music theme accompanied by delightful sound effects.
Simplified gameplay perfect for learning and entertainment.
What are the best online games?