Marine Fish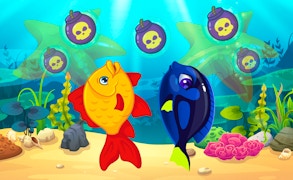 Marine Fish
Description
Immerse yourself in the aquatic adventure of Marine Fish Online. This game offers a fresh take onto the classical arcade genre, putting you in the role of a marine animal trying to safeguard its own survival. The challenge lies not just in catching fish, but also in maintaining balance in the underwater eco-system. Overpopulation of fish could result in a mass die-off or "boom", testing your resource management skills.
How to play
Marine Fish Online is simple yet challenging. Navigate your character through the colorful underwater world with easy-to-use controls. Your main objective is to maintain balance by controlling the fish population. Catch fish to prevent overpopulation but avoid endangering species by overfishing. Progress through increasingly difficult levels, each teeming with unique marine life and challenges.
Tips and Tricks
Always remember, balance is key! While you should aim to catch as many fish as possible, it's crucial not to overdo it as that could lead to endangerment. Keep an eye on fish population indicators. They provide crucial information about species' status. Utilizing them will help prevent a hazardous boom.
Features
Detailed and colorful graphics bringing marine life to your screen.
A unique take on classic arcade gameplay with an environmental twist.
Straightforward controls making the game easy-to-play for all age groups.
An educational element, teaching about marine ecosystem and balance.
Diverse levels each offering different species and challenges.
What are the best online games?