Mall Service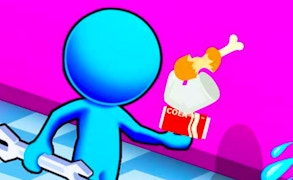 Mall Service
Welcome to the dynamic world of Mall Service, a unique blend of tycoon games, stickman games, and money games that truly sets itself apart in the bustling arcade game genre. In this immersive game, you are tasked with the formidable challenge of maintaining order, cleanliness, and efficiency in a bustling shopping center.
What sets Mall Service apart from other tycoon games is its interesting simulation of management strategies. You need to master the art of discovering new territories and signing lucrative contracts for your services - which is quite an addictive gameplay. The essence of this game lies in its deep gameplay, paired with its stunning graphics that paint a vivid picture of your burgeoning shopping empire.
Aside from negotiating contracts and managing territories, there's another gaming dimension that will pique your interest - upgrading your character. As with other renowned stickman games, you get to enhance your character's capabilities to outsmart, outpace, and outperform the robot competitor. Further sweetening the deal is the increasing monetary reward following each successful improvement.
If audio aesthetics are part of what you're looking for in a gaming experience, Mall Service's pleasant music will undeniably hook you in. It complements the beautiful graphics perfectly while adding another layer to this rich money game.
In conclusion, Mall Service brings a fresh perspective to arcade games through its incorporation of elements from tycoon games, stickman games and money games into one captivating package. Its addictive gameplay combined with beautiful graphics, pleasant music and deep gameplay deliver a top-tier gaming experience that any arcade enthusiast will appreciate.
What are the best online games?