Make 10 - Puzzle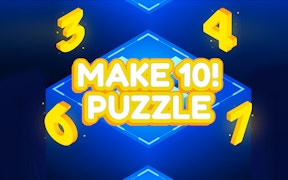 Make 10 - Puzzle
Description
Enter the world of Make 10 : Puzzle, a captivating block and number puzzle game that is sure to give your brain a workout. This is not just a game, but an exceptional journey of logic and strategy, designed to challenge and entertain both kids and adults alike. From its engaging plot to the colorful graphics, Make 10 : Puzzle turns numbers into an exciting, endless adventure.
How to play
In Make 10 : Puzzle, you are presented with blocks bearing different numbers. Your mission is to arrange these blocks strategically so that their sum makes 10 in any direction - horizontally, vertically or diagonally. There is no time pressure, giving you freedom to carefully plan your moves and engage your mathematical skills at your own pace.
Tips and Tricks
To excel in this game, always think ahead. Plan your moves carefully by predicting what number combinations could appear in the next round. Remember, diagonal combinations count too! So don't miss out on any opportunities to Make 10!
Features
Diverse Themes: Choose from a wide variety of ready-to-use themes.
All Ages Game: Perfect for everyone due to its universal appeal.
Bonus Aids: Makes use of various bonuses for a more enjoyable gaming experience.
Night Theme: Protects your eyes with a soothing theme that allows comfortable gameplay even before sleep.
What are the best online games?