Magic 2048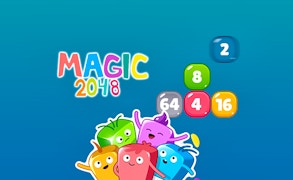 Magic 2048
Description
In the enchanting world of Magic 2048, numbers become your main ally. This puzzle game involves merging blocks with identical numbers as they cascade downwards. With each merge, the number value of the block doubles, the primary goal being to reach the magic number 2048. However, it's not as easy as it sounds! The blocks pile up quickly, and your decision-making speed and strategy will truly be put to test.
How to Play
Simply use your keyboard arrows or swipe on your screen to move the falling blocks around. When two blocks with the same number touch, they merge into one, doubling their numeric value. Plan your moves carefully to avoid getting stuck with a mismatched selection of blocks. Continue this process until you successfully create a block with the number 2048.
Tips and Tricks
Focus on combining smaller numbers first. This tactic can prevent the game area from filling up too quickly and provides more opportunities for larger combinations later on. Also, try to keep your highest-value block in a corner, this will give you more room to maneuver and build upon your numbers.
Features
Addictive Gameplay: It's simple yet complex gameplay ensures hours of strategic fun.
No Time Limits: Play at your own pace with no pressure or countdowns.
Educational Edge: Sharpen those math skills while having fun!
Friendly User Interface: Easy-to-learn controls make it accessible for players of all ages.
What are the best online games?