Cubes 2048 .io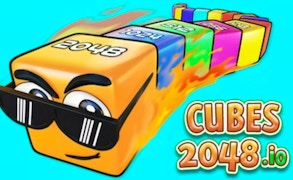 Cubes 2048 .io
Sometimes you've gotta play the numbers game if you want to get ahead in life and sometimes playing a literal numbers game can help like Cubes 2048 io. The challenge with getting people interested in numbers and mathematics is to present it in a way that is appealing and accessible. Instead of a puzzle, this is a competitive game where you need to use your numbers to grow and take on other people's numbers. This is a number competition where it's not only about being the biggest but also by doing the most addition while avoiding being subtracted out of the arena.
About Cubes 2048 io
The range of io games is almost staggering to the point where they can cover every kind of genre and now it's spilled into numbers. However, this is a pretty enjoyable spill that can also sharpen some of your math skills. The more you play, the more you forget the fact that you're playing a game about math, but there's the irony. Some of the biggest and most popular competitive games are all about numbers, specifically stats. Players are always trying to get the best stats by improving their numbers through XP and gear. This game is quite literal in that having the biggest numbers wins.
How to Play
Cubes 2048 io is an isometric 3D multiplayer player game about gathering numbers using your mouse. Your cubes will automatically move at a constant speed in whatever direction you move the cursor. They can dash by pressing the Left Mouse Button, but this will drain the Stamina Meter. The goal is to be the biggest train of numbers in the arena and hopefully be the first to reach 2048.
You start each round as a sliding cube with the value 2. To grow, you need to lead the cube into numbers that match or are less than its current value. When you collect numbers that match, they combine into a bigger cube bearing the sum of their values. The more cubes you collect, the bigger your train gets, and they'll automatically combine as you collect them. You can also collect the cubes of other players as long as your cube has a greater value. This means that bigger number cubes will pose a threat, but you can collect cubes from their train if they're made of lower numbers and others can do this to your train too.
While exploring, you may find modifiers as tiles on the floor. These tiles contain mathematical functions and power-ups that can boost or inhibit your cube's values and movement. If your cube is collected by a bigger number, you're removed from the game and will need to start over.

Tips and Tricks
This game uses Snake rules but with numbers instead of food. Since you start off so small, make your way to the edges of the arena to collect small numbers and build your strength. Once you do, try to lead enemy players to edges and corners to trap them. Remember to reserve some Stamina in case you need to Dash to safety.

Game Details
Developer: Playmost Games
Platforms: Web Browser (PC and mobile) and Android
Languages: English
Gameplay Footage
FAQs
Is Cubes 2048 io online?
The game requires an internet connection on all of its versions since it requires online players in order to function.
Games similar to Cubes 2048 io
From the content and gameplay, this title is placed into the 2048 and Snake Games categories on GamePix. Other games in these sections include the original 2048, 2048 Solitaire, Gulper io, and Little Big Snake.
What are the best online games?