Numbers Puzzle 2048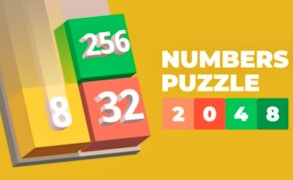 Numbers Puzzle 2048
Welcome to our review of Numbers Puzzle 2048, a challenging intersection of brain games, number games, and math games. Unveil the mathematician in you, as you navigate through an arithmetic labyrinth, armed with nothing but a keen mind and sharp intuition.
At first glance, Numbers Puzzle 2048 may seem like a simple stack-and-match game. It's much more than that. With every tap on the column, every tile you point to the right place, emanates an exhilarating fusion of number-crunching and strategy-forming extravaganza. Layered beneath its elementary facade is a complex tapestry of strategic thinking, anticipation, and mental agility.
This game is an evolution of classic 2048 games. Each move paves way for a new one. You connect tiles, align them in perfect harmony, with each successful connection birthing a new tile with a doubled number. The aim? Achieve the elusive 2048 tile; A feat that's as rewarding as it is challenging.
The lure of Numbers Puzzle 2048 extends beyond its gameplay. It's an invitation to test your cognitive abilities. A duel between you and numbers that hones your mental reflexes making it one of the most engaging brain games out there.
In conclusion, Numbers Puzzle 2048 isn't just a game; it's a journey. It's about how you strategize each move in this riveting world of number games. How you soak in the aura of this mathematical marvel and come out on the other side as not just a player but an arithmetic visionary. If you are on the hunt for interactive math games, Numbers Puzzle 2048 deserves your attention.
Come, join us on this top-of-the-line brain teaser where math meets fun – only at Numbers Puzzle 2048!
What are the best online games?