Ludo Online Xmas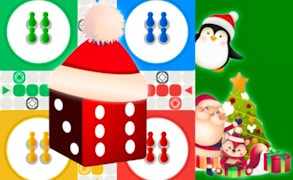 Ludo Online Xmas
Looking for the ultimate family game this festive season? Look no further than Ludo Online Xmas. As we draw nearer to Christmas, it's time to light up your holiday spirit in a competitive, yet delightful way. This isn't just a board game, it's an explosion of joy, a true epitome of family bonding during the holidays.
We all know and love Ludo, that classic race-to-the-finish game capable of turning family and friends into rivals. Now imagine infusing that with the cheer and warmth of Christmas, all in a delightful online setting. That's right. With Ludo Online Xmas, you can enjoy the thrill of Ludo on any device, anywhere in the world.
This game encapsulates an incredible blend of strategic prowess and chance encounters which makes it stand out as one among the top brain games. Add in the festive charm it comes with and you get an unmatchable combination, perfect for Christmas games lovers.
So what sets this apart from other 2 player games? First off, its three exciting modes. Whether you fancy playing against an AI in 'Vs Bot', or want to engage in an online battle against randomly matched players around the globe or simply wish to spend quality gaming time with your friends using a private code in 'Private', there's always something for everyone.
Ludo Online Xmas is not just a game. It is an experience; a perfect mix of nostalgia, holiday spirit and modern gaming culture rolled into one unforgettable package. When you're nestled around your screens this Christmas night, battling out for supremacy on that virtual Ludo board, remember to enjoy every bit of it because at its core, that's what this holiday season is all about - creating memories!
Merry Christmas! Game on!
What are the best online games?