Ludo Kingdom Online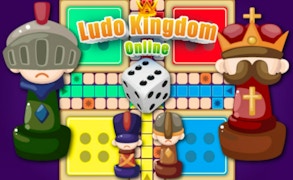 Ludo Kingdom Online
If you're a fan of family games, then there's an online kingdom waiting just for you and your loved ones. Welcome to the vibrant world of Ludo Kingdom Online, where friendly competition thrives, and cerebral excitement is the name of the game.
Dig into the wealth of fun that this game offers as it effectively combines the thrill of 2 player games and the mental stimulation of top-tier brain games. With three versatile modes, Ludo Kingdom Online ensures that no two gaming sessions feel the same.
In the 'Vs Bot' mode, match wits with a formidable computer opponent and sharpen your Ludo skills. Go for 'Online' mode if you relish unpredictability and enjoy playing with randomly matched contenders from around the globe. If a more private experience is what you crave, 'Private' mode lets you challenge your friends to an intense Ludo face-off. Simply share a private code and prepare for hours of relentless fun.
Ludo Kingdom Online is not just about rolling dice; it's about strategically plotting moves, navigating through challenges, and outsmarting opponents in a race to reign supreme. It beautifully captures the essence of traditional Ludo while adding its unique spice to make it one of your go-to family games.
Engaging gameplay, vibrant graphics, seamless online connectivity - Ludo Kingdom Online has all elements in place that define fantastic online board games. So whether it's to flex those mental muscles or create unforgettable family moments - Ludo Kingdom Online should be your next digital destination.
What are the best online games?