Love Test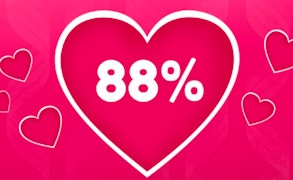 Love Test
Immerse yourself in the captivating world of Love Tester Julie, an entertaining game for girls that will keep you hooked with its unique concept and interactive gameplay. It's not just a game, it's an exploration of emotions, a fun-filled journey into the realm of love and affection.
Love Tester Julie stands out among trivia games, offering more than just quizzes. Here, you get the exciting opportunity to test your love based on names. Yes, you read it right! This game provides a fascinating insight into how much you love her by just using names. It serves as a delightful diversion that not only entertains but also piques your curiosity.
The mechanics of the game are simple yet engaging. Simply tap on names and voila, your love quotient is displayed in no time! This name-based love test adds an intriguing twist to regular trivia games and surely keeps you guessing for more.
The real charm of Love Tester Julie lies in its simplicity and directness. It cuts through the noise and offers pure, unadulterated fun. Moreover, it is tailored for girls and beautifully captures their spirit of romance and camaraderie.
In summary, Love Tester Julie is a splendid mix of trivia, romance and suspense that engages gamers with its innovative approach and keeps them entertained hours on end. Don't miss out on this exceptional entry in games for girls!
So when can we ask ourselves "how much do I love her?" Now is the perfect time! Play Love Tester Julie now, tap into a universe of names, check your love quotient and experience amazing fun!
What are the best online games?