Love Pin Online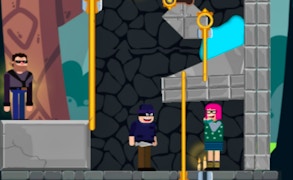 Love Pin Online
Prepare for a heart-pumping, adrenaline-filled journey as you dive headfirst into the thrilling world of Love Pin Online, a tour-de-force in Adventure gaming. This gem of a game skilfully intertwines elements of Skill Games, Escape Games, and Addictive Games, creating an experience that is equal parts challenging and engaging.
A narrative clothed in urgency, Love Pin Online throws you into a dire situation where our protagonist fights against all odds to rescue his beloved girlfriend. She has been captured and imprisoned by a fierce criminal who shows no mercy. Each level presents unique puzzles to be solved; this is where your cunning and expertise come into play, truly earning it a reputable spot under Skill Games.
The game teems with lively action reminiscent of popular Escape Games. You are tasked with using various objects in the environment to outwit your enemies and create a safe passage for reunification with your lover. The stakes are high, leaving no room for error as you traverse the perilous obstacles, adding an addictive edge that will keep you coming back for more.
The allure of Love Pin Online shines through its addictive gameplay dynamics. The challenging yet enjoyable puzzles combined with the intense rescue missions bring about an allure that keeps gamers on their toes, rightfully earning it's tag as one of the most Addictive Games.
In conclusion, Love Pin Online offers an electrifying mix of skill-based challenges, escape missions, and addictive gameplay mechanics. Indeed, it's more than just a game; it's an adventure that beckons you to rise above adversity and fight for love. So brace yourself for an emotional roller-coaster ride that is both thrilling and rewarding in this exclusive offering from kiz10.com!
What are the best online games?