Little Shop Of Treasures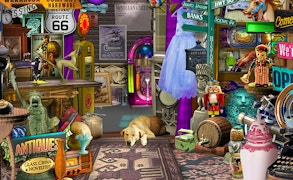 Little Shop Of Treasures
Immerse yourself in the wonderfully captivating world of Little Shop Of Treasures, an addictive concoction of hidden object games and stimulating brain games that is sure to tantalize your cognitive faculties. As a delightful foray into the adventure genre, this game invites us to step behind the counter and experience the magic and thrill of running our own little shop.
A myriad of unique items are waiting to be unmasked as you delve into the different stores, each carrying an astoundingly charming aura of its own. With each object meticulously designed, every discovery feels like unearthing a small piece of treasure. A wide array of customers with eccentric tastes keep the game interesting while keeping your grey cells on their toes.
The fun doesn't stop at just finding objects; Little Shop Of Treasures also invites you to flex your entrepreneurial muscles. Each successfully completed task brings you closer to your ultimate goal - making enough money to finally open your own shop. The thrill of seeing your dream come alive adds an incredibly satisfying dimension to this hidden object game.
The vivid, colorful graphics accompanied by a compelling narrative keeps you hooked onto this mesmerizing journey through different stores. This is not just another addition to the roster of brain games, it's a beautiful narrative woven intricately around the fascinating world of hidden objects.
Little Shop Of Treasures offers a perfect blend of adventure and intellectual stimulation, making it an absolute must-play for all brainiacs seeking out a high-quality gaming experience wrapped in an enticing storyline. Dive in today to get lost in this whimsically charming world!
What are the best online games?