Little Cat Doctor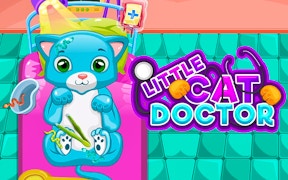 Little Cat Doctor
Step into the endearing world of Little Cat Doctor, an irresistible entry into the genre of animal games that's purrfectly tailored for young players. This charmingly engaging title, designed with kids at heart, will allow them to step into the shoes of a furry-friendly vet, demonstrating compassion, quick thinking, and a sprinkle of feline fun.
An unmissable cornerstone among games for kids, Little Cat Doctor encapsulates a heartwarming narrative where players are entrusted with the noble task of treating adorable virtual cats. The gameplay is meticulously crafted to keep our budding veterinarians engrossed and entertained; it firmly carves its pawsitive mark into the realms of cat games.
The exquisite allure of Little Cat Doctor lies not merely in its delightful premise, but in its ability to marry educational elements with fun-filled gaming. As participants navigate their way through various missions, they're equipped with valuable insights about real-life veterinary practices - merging the worlds of entertainment and education seamlessly. This title easily lands among the top-tier games for girls, providing a perfect platform for encouraging empathy towards animals.
In the vibrant landscape of operation games, Little Cat Doctor stands out with its accessible interface and visually appealing graphics. Little vets are taken on an enchanting journey through different levels as they diagnose illnesses, administer treatments, and nurse their feline patients back to health. This delicate balance between its challenge-driven approach and its engaging premise makes it an irresistible staple among children's games.
In conclusion, Little Cat Doctor is a must-have addition to any junior gamer's collection. It not only offers endless hours of fun but also fosters a loving attitude towards animals. It's more than just a game -- it's where learning meets play in a wonderfully whiskered world!
What are the best online games?