Line Rider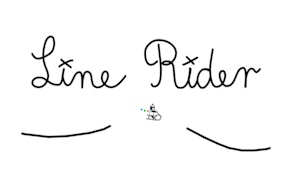 Line Rider
Certain games may lean toward the more creative end of things by challenging players to make their own fun and express themselves like in Line Rider. You are overseeing a small monotone sledder in a simple monotone world that could very much use some decoration. To make it happen, you'll be using the various tools needed to create slopes and tracks for the sledder to slide across. You can experiment with the different lines to create your own designs that will take the sledder on a ride that they won't forget and that you can feel proud to share.
About Line Rider
This game is oddly familiar to older titles where the main gimmick was to use your mouse to scribble on a blank space to make something happen. The sledder is eagerly awaiting for something to happen and you are too. The tracks you design can be as long as you want them to be and as intricate or as simple as you can make them. There don't seem to be any boundaries to the canvas on which you are making the tracks so you're free to go wild and create one that challenges the game's processing limits.
How to Play
Line Rider is a 2D creative game about creating tracks for a sledder to use with the mouse. You need the cursor to navigate the UI menus at the top, left, and bottom of the screen. Each one is allocated to a specific purpose. The left side is for technical elements, allowing you to save, load, export, and even clear the track you've made. You can also adjust the settings to change the number of riders and even put in your own music track.

The top screen is dedicated to making the tracks and controlling the canvas. You have a pencil to draw the tracks by holding the left mouse button and dragging or a paintbrush that lets you create a path for the tracks to follow. The line tool can be used to make perfectly straight lines as needed. You also have an eraser to remove tracks, a cursor to select them, a reticle to move the perspective of the canvas, and a magnifying glass to zoom in and out via dragging. You have three types of track lines to work with: Blue is standard, Red boosts the sledder's speed on contact, and Green is purely decorative.

The bottom part of the screen lets you see the sledder in action as they slide down your track. Press the play button to see them go and stop when you're done. You can also move forward or backward in the sledder's journey and use flags to mark specific points. Lastly, for entertainment, you can have the sledder move in slow motion or create afterimages.
Tips and Tricks
There are no objectives or goals to fulfill which means you're free to enjoy this game however you see fit. You can search online to see if other creators have uploaded tracks or assets that you can put into your game and try for yourself.
Game Details
Developer: Emergent Studios
Platforms: Web Browser (PC and mobile), iOS, and Android
Languages: English
Gameplay Footage
FAQs
Is Line Rider still active?
The game was originally released in 2015 but continues to be updated with the most recent big updates being in 2022.

Who created Line Rider?
Though the company credited on the game page is Emergent Studios, the main developer is a Slovenian designer named Boštjan Čadež.

Games similar to Line Rider
This odd little title finds its place in the Brain and Drawing Games categories on GamePix. It shares these areas with games like Betrayal io, Ballistic, Draw Fighter, and Skribbl io.
What are the best online games?