Line Color 3D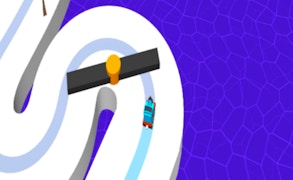 Line Color 3D
Introducing Line Color 3D, a captivating 3D online arcade game that will keep you on the edge of your seat. Whether you're a PC enthusiast or a mobile gaming junkie, Line Color 3D caters to all, delivering an unparalleled gaming experience across platforms.
As a player, your mission is simple yet incredibly addictive. You are in control of a line that's eager to splash color into a monochrome world. Your objective is to manipulate the line to color a white area, propelling it forward to clear level after level. But be wary! A slew of obstacles pop up on your path to test your skills.
Line Color 3D is not just another game; it's an enthralling journey where you pit your agility and reflexes against challenging barriers. At its heart, Line Color 3D is a skill game, but its vibrant splashes of color lend it the charm of the best coloring games out there. Every successful stroke of color feels rewarding, and every level you conquer will leave you hungry for more.
If you're looking for a game that's both fun and challenging, Line Color 3D is your perfect match. Immerse yourself into this colorful universe and find out if you have what it takes to master the art of coloring in 3D! Prepare to be engrossed and have an incredible time in our new game—Line Color 3D!
Buckle up for this arcade adventure and let's bring some colors to life!
SEO Keywords: Line Color 3D, online arcade game, skill games, coloring games.
What are the best online games?